About Leo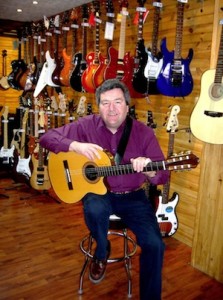 At the tender age of nine, Leo Al Lawrence picked up his first guitar and from this early introduction to the most expressive of instruments and an adolescence spent in the 60's, sprang a love that spans the full spectrum of the guitar and its music – from classical to the compulsive foot-tapping jazz – rhythmic Latin, folk, rock, blues – not forgetting Leo's own original compositions.
Inspired, amongst others, by Chet Atkins, Les Paul, BB King, John Williams and Julian Bream – Leo developed his own unique style of composing and playing guitar music. From the many years of experience gained working in the film industry and playing with big bands, Leo developed chord structures for finger-style guitar — a perfect example of this technique can be heard in Leo's arrangement of the song 'Mona Lisa'. In addition, Leo has frequently presented live music for BBC radio and has often been interviewed on his unique style of playing.
In recent years, Leo has presented many concerts in France and has numerous avid fans. Leo also teaches and has devised a guitar learning method which has continued success with pupils both in England and France.
Get ready to enjoy the pure guitar playing talent that will take you on a journey through time with musical styles as diverse as the guitar itself.