Guitar Lessons

All age groups
Beginners to experienced
Individual and group sessions
Acoustic and Electric guitars
Secure and free car parking
First lesson free!
Having played the guitar for over fifty years, creating and writing my own very successful teaching method, covering both guitar playing techniques and the understanding of music theory where necessary or desired.
Experience
I began learning the guitar at the tender age of nine, became semi-professional at sixteen and professional after leaving school where I worked in the West End of London. I then travelled to Ireland working in the film, television and advertising industry – writing, arranging, playing and recording background music.
I performed in the live BBC music festivals with presenter Paul Mackenzie to an audience numbering in the hundreds on location and thousands over the airwaves.
Playing concerts all over Europe covering a variety of musical styles and also working with the Derbyshire based Ockbrook Big Band.
Composer of various styles including classical and swing.
You can see highlights from the Theatre Edith Piaf Bernay in France where I performed live in the video below:
> Leo Al Lawrence in Concert Samples
Teaching Method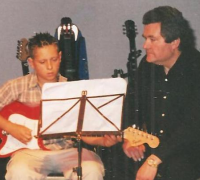 My method is not so much concerning 'lesson number one' and 'number two' etc. It's based instead on units, so the student doesn't at any time feel under pressure to move week by week from lesson to lesson as instead we focus on units that can take a varied amount of time depending on what the student feels comfortable with.
The lessons are carried out in a very relaxed environment, where the student makes the progress they desire in the timespan that they feel comfortable with.
We start with learning various chords, so as to be able to play well known popular songs that the students will identify with and more importantly enjoy. This is then followed by more in-depth guitar playing techniques, which will allow the student to explore the various styles of music that can be played on the guitar – such as popular music, blues, jazz, spanish classical, flamenco etc. Armed with these new techniques, the student can then pick and choose which musical style they wish to pursue.
Having taught with this teaching method for nearly twenty years with students based locally and internationally – it's clearly been a success due to the positive feedback and number of students that attend the studio and using modern video communication tools over the Internet.
What's Provided?
With each unit (lesson), all music and documentation for home practice is provided for the student to study at their own pace. This is all included with the price of the lesson!
There are fifty pre-prepared tutorial units ready for the student to experience from the very beginnings of guitar instruction to the very advanced workings of classical music and interpretation.
All lessons are conducted within a spacious studio, designed especially for the purpose of teaching.
Guitar rental is available, perfect for those who are unsure of whether they will pursue this interest after their first few lessons.
---
I look forward to hearing from you. Don't hesitate to contact me with any questions you may have.
Leo Al Lawrence